Photo by: Dennis Blomberg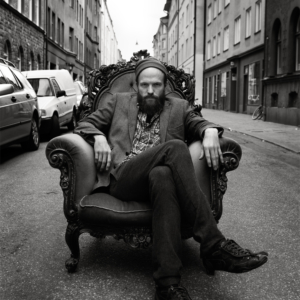 David Sandström Overdrive
About
Biography from 2008
David lives outside of Umeå in a small village called Brände. Pigs Lose is recorded in the village school on the other side of the valley, and at the same time David and Oskar were building their own recording studio in Davids yard. It took them two years to finish the studio and three years to finish the recordings of the album. It is important to point out that Oskar Sandlund (drummer, technician and producer,) has over the last years turned out to be as big part of David Sandström Overdrive as David himself.
David uses his cell phone to record pieces of mumbled lyrics and hummed melodies that later turns into songs. Oskar then listens to all the phone recordings, shakes his head and think it is far too much material to go through and that it would be easier if he wrote less. Oskar then decides what songs they should keep working on and that is what they will do.
"I've become a different person since we started working on this album", says Oskar,
"also because three years passed by". Oskar was only twenty three years old when they started the song writing process. They had fifty songs to begin with which became twenty six, later reduced to sixteen and then they weren't able to cut anymore without ruining the entirety even though the record company hinted that it might be a litltle unrestrained. The entirety could not be destroyed.
Their first album also belongs to the same entirety but David and Oskar says, that they are more pleased with Pigs Lose.
If one would ask them what is sounds like, David would say that it is like the feeling of awakening or perhaps like when one clears ones throat and says," but seriously!"
It also sounds like David Sandström Overdrive plays with the entire American rock history, with Neil Youngs shadow closely observing. 
David and Oskar became obsessed by the kind of records they used to listen to as teenagers – nothing good – "early Faith No More, Smashing Pumpkins" and listend only to that, and it might show on Pigs Lose.
Lisa, Lisa is Oskars favourite song and the first single of the record, the song is about when one started playing music. Just like the other songs on Pigs Lose it makes you wanna pull yourself together, drive off in a car and change your life. Seriously.
Pigs Lose is created in the Brände-studio together with the two remaining members of Overdrive, guitar player Frida Selander and bass player Lars Eriksson. Industrious absolute and simple with as few instruments as possible, our aim was to keep it clean says Oskar. Lovisa Nyström, Anders Lind and Malin Jonsson also participates on the album.
The former album, Go Down!  was perhaps something you never listened to, and the reason for that was partially cause David and Oskar hit a wall after working too hard and partially cause Davids parents record company. MOFAB, was managed with a lot of love and less business mind. "It could take my dad and me three weeks to create a barcode". says David and is happy that David Sandström Overdrive is now released on a label with less ties of kinship and are able to hand over the details. When the contracts were signed David and Oskar gave some presents to Martina and Daniel of Razzia Records; A hook for a washing cloth and a subscrition to their local news paper. To hand over something, is new thinking to David Sandström, when the highly well accomplished album about his grand father, Om det inte händer nåt innan imorgon så kommer jag, sold its 2000 copies, david never cared to print anymore.
A thousand copies of Pigs Lose will also be sold toghether with a 34 paged fanzine, which David created together with designer Carl Anders Skoglund, the fanzine should be considered as art, but with a political base. Everyone seems to think that I'm very political, but it is Dennis Lyxzéns and Sara Lidmans opinions, that they think are mine. For me it might just be about this: " I want people to love the choruses. They can listen to the album in any way they want, as long as they love the choruses.
Pigs Lose is released on the 22nd of Oktober
* David Sandström was the drummer of Refused.
** David Sandström participated in the documentary "Tillflykt", which is about his source of inspiration, Sara Lidman.
Discografy:
With David Sandström Overdrive:
 2005: Go Down
 2004: The Dominant Need of the Needy Soul Is to Be Needed
David Sandström:
 2001: Om det inte händer nåt innan imorgon så kommer jag
1998: The faint sounds of shovelled earth