Photo by: Mathias Johansson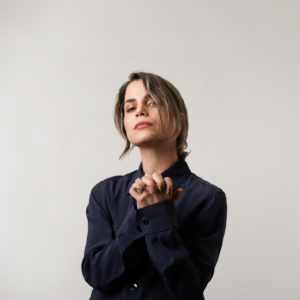 About
"A New Shape" consists of five intimate songs that comfortingly whisper that yes, life is tough sometimes. It is the kind of notes and melodies that knows that the darkness may be unbearable at times, but assures us that things will get better. The songs are on a constant move, put the listener in the front passenger seat and take us on a journey through time and space. Outside the window the big city's wet asphalt and the countryside's dense forests passes by. 
"We were wild  for a little while, now I'm traveling further away from your heart day by day"
The words are taken from "Tell Me Lies", one of several songs that are characterized by memories from a distant past. Now nothing is as it was and everything has changed. Days turned into black holes. But "A New Shape" has a strong desire to get back to where we once were.
"From a time when we still believed… that everything we ever need is somebody to make you feel" (Hurricanes of love)
Musically Firefox AK, or Andrea Kellerman as she calls herself in everyday life, makes melancholic and electronic pop music that works perfectly with lyrics that are more anxious than anything she has released in the past. Perhaps that is one of the reasons why she never felt as secure about a recording as she does this time. Producer Claes Björklund, known from Iamamiwhoami, has without any doubt also played an important role. With great intuition he gives the songs a sound that perfectly captures the mood of the sad yet hopeful lyrics. The personal appropriation is emphasized by the presence of the voices of Andreas' sister's kids in "Shadows of our Past".
" Oh your skin I wonder how it feels… One Last time"
Another highlight is "One Last Time", a song where the musical prodigy Elias' deep voice adds one more dimension to the EP. What occurs when these two artists meet can only be described as timeless pop magic.
– He sings divinely. To meet him was like meeting a being, remembers Andrea. 
"A New Shape" is about a transformation, a new beginning.
Something different.
Something better.
Something new.
It has been ten years since Firefox AK released her celebrated debut album "Madame Madame", an album that in many ways was groundbreaking for the electronica scene, especially in Sweden. Back then her "band" consisted of an iPod that accompanied her on countless tours in both Sweden and abroad.
For a while she was also the guitarist of Hello Saferide and her voice can be heard on the duet "Long lost penpal" from Hello Saferide's debut "Introducing: Hello Saferide". After that her career took off and, among other things, she was nominated for a Swedish Grammy for the album "If I Were a Melody".
The follow-up, "Color the Trees", was released on a major label in Germany and the single "Boom Boom Boom" became a big radio hit. At around the same time Firefox AK got the prestigious assignment to be the opening act for mega-band The Hurts on their European tour.
Contact information
Bokning: Headstomp
Management: Pär Stavborg: par (at) ifps.se
PR: Isabel Rodriguez (Sony Music): isabel.rodriguez (at) sonymusic.com